A walk through the history of Barcelona...
The first human settlements in Barcelona date back to Neolithic times. The city itself was founded by the Romans who set up a colony called Barcino at the end of the 1st century BC. The colony had some thousand inhabitants and was bounded by a defensive wall, the remains of which can still be seen in the old town.
For over 200 years, Barcelona was under Muslim rule, and, following the Christian reconquest, it became a county of the Carolingian Empire and one of the main residences of the court of the Crown of Aragon. The fruitful medieval period established Barcelona's position as the economic and political centre of the Western Mediterranean. The city's Gothic Quarter bears witness to the splendour enjoyed by the city from the 13th to the 15th centuries.
From the 15th to 18th centuries Barcelona entered a period of decline, while it struggled to maintain its economic and political independence. This struggle ended in 1714, when the city fell to the Bourbon troops and Catalonia's and Catalans' rights and privileges were suppressed.
A period of cultural recovery began in the mid-19th century with the arrival of the development of the textile industry. During this period, which was known as the Renaixença, Catalan regained prominence as a literary language.
The 20th century ushered in widespread urban renewal throughout Barcelona city, culminating in its landmark Eixample district, which showcases some of Barcelona's most distinctive Catalan art-nouveau, or modernista, buildings. The Catalan Antoni Gaudí, one of the most eminent architects, designed buildings such as the Casa Milà (known as La Pedrera, the Catalan for stone quarry), the Casa Batlló and the Sagrada Família church, which have become world-famous landmarks.
The freedoms achieved during this period were severely restricted during the Civil War in 1936 and the subsequent dictatorship. With the reinstatement of democracy in 1978, Barcelonasociety regained its economic strength and the Catalan language was restored. The city's hosting of the 1992 Olympic Games gave fresh impetus to Barcelona's potential and reaffirmed its status as a major metropolis. In 2004, the Forum of Cultures reclaimed industrial zones to convert them into residential districts. An example of the renewed vigour with which Barcelona is looking towards the 21st century
Geographical Location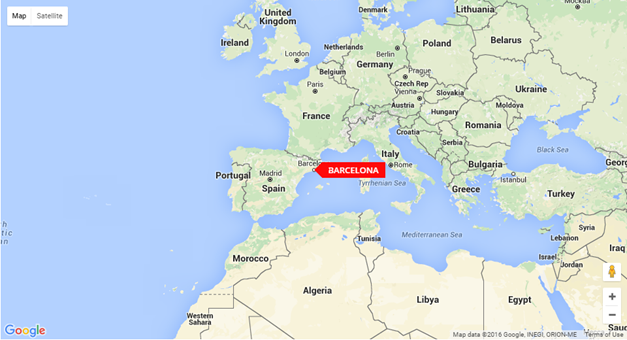 Barcelona is the second largest city of Spain, which itself is located at southwestern Europe. Barcelona is present in the province of Catalonia and is its capital. At its northeast, lies the Mediterranean Sea, towards its southwest lies the Lloregat river and the Besos river lies at its north. The official area of Barcelona is 170 sq. km out of which 101 sq. km is occupied. 120 km away from the border of Barcelona lies France's border.
Within the City
The city contains a number of buildings of historic importance. For example, in 1450, the University of Barcelona was founded. The famous opera house, Gran Teatre del Liceu is also present in Barcelona. Other important buildings include the museums of Picasso and Miro, Maritime Museum, Museum of Catalonian Art and the Museum of Contemporary Art. Also, present in the city is the famously beautiful street, La Rambla and the heart of Barcelona, the Catalonia Plaza.
If you visit Barcelona and wish to see it all in a single view, there is nothing Tibidabo. Tibidabo is a mountain, 512 m in height, which overlooks Barcelona. The city also has a number of small hills that have neighborhoods developed around them. Some of these hills include Carmel, Putxet, Rovira and Montjiuic that also has a castle at its top.
In addition to the numerous hills, there are a number of parks too in Barcelona. These natural parks vary in the type of flora and fauna on display. Often students from nearby countries come to these wetlands to conduct field studies. A few examples of Barcelona's parks are Garraf and Montserrat Natural Parks that are abundant in limestone, Ebro Delta wetlands, Garrotxa Volcanic Park, Montseny with a landscape full of alpines and Vall de Nuria with its spectacular glacial topography.
Different communities in Barcelona exist. Some of them are Sant Cugat del Valles, Esplugues de Llobregat, Sant Just Desvem, Sant Feliu de Llobregat, L'Hospitalet e Llobregat, El Prat de Llobregat and Santa Coloma de Gramenet.
All in all, Barcelona's geography makes it a very unique place and is sure to capture the attention and hearts of those who visit it.

Weather
Situated in the northeast of Spain on the Iberian coast, Barcelona enjoys a Mediterranean climate, with warm summers and cooler winters but no extremes of temperature or weather. This makes it an ideal year round destination - although this stretch of coastline is called Costa Brava because of its at times tempestuous weather, so the weather in Barcelona is less predictable than the rest of Spain.
The average daily temperature in Barcelona in July is 29°C, reaching highs of 33°C, and dropping to an average minimum of 24°C.
Airport
Barcelona El Prat Airport is located approximately 18 km from Barcelona city centre. For further information on means of transport to and from the airport please contact registration@wcpccs2017.org
Transfer time by taxi from Barcelona El Prat Airport to the CCIB is approximately 20 minutes.
Banks & Exchange
Official opening hours of banks in Barcelona are generally from 08:30-14:00 Monday to Friday.
Credit Cards
Most hotels, restaurants and shops in Barcelona accept major credit cards.
Currency
Euro €
Electricity
The power supply in Barcelona is 220/380 volts at a frequency of 50 MHz. All sockets follow European standards. To use American-type plugs, a 220-volt transformer should be used together with an adapter plug.
Shopping Hours
Shops are generally open from 09:00-13:00 and from 15:00-19:00 on weekdays and from 09:00-13:00 on Saturdays. There are also a number of shopping centres which are usually open until 22:00-24:00.
Taxis
Taxis are reasonably priced and are run on a meter. Taxis can be found at clearly marked taxi ranks or you can call one.